My mobile device collection, episode 5: The Palm Duo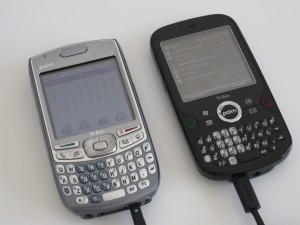 品名 Product name
奔迈 Treo 680
Palm Treo 680
颜色 Color
灰色
Grey
操作系统 OS
Palm OS Garnet 5.4.9
处理器 CPU
Intel XScale PXA270 @ 312MHz
容量 Capacity
需使用SD卡扩展
Require SD card for expansion
电池 Battery
如风 1800mAh 双索尼电芯
Treo8 1800mAh with duo Sony cells
屏幕 Screen
2.5" 电阻触摸屏幕 (320*320)
2.5" resistive touchscreen (320*320)
相机 Camera
VGA镜头,带自拍镜
VGA quality with selfie lens
成色 Quality
已多次翻新
Self refurbished for many times
发售日期 First released
2006年11月
November, 2006
其他 Others
已刷自定义ROM
Customized ROM
当前状态 Current status
可工作,现仅用于收藏
In working order, for collection only now
相关信息 Related info
Wikipedia
品名 Product name
奔迈 Treo Pro
Palm Treo Pro
颜色 Color
黑色
Black
操作系统 OS
Windows Mobile 6.1 Professional
处理器 CPU
MSM7201 @ 400MHz
容量 Capacity
256MB(内置,可使用micro SD卡扩展)
256MB (Intergrated, expandable with micro SD card)
电池 Battery
1500mAh Li-ion battery
1500mAh 锂电池
屏幕 Screen
3.5" 电阻触摸屏幕 (320*320)
3.5" resistive touchscreen (320*320)
相机 Camera
200万像素摄像头
2M pixels main camera
成色 Quality
全新
Brand new
发售日期 First released
2009年1月
January, 2009
其他 Others
受裂缝们困扰
Already has common enclosure crack
当前状态 Current status
可工作,仅用于收藏
In working order, for collection only
相关信息 Related info
Wikipedia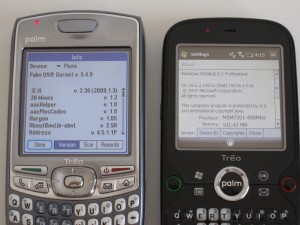 Treo 680是我的第一部手机,上高中之前休假时购买的,当时还是CECT贴牌的国内行货,花了20多张毛爷爷,是我当时买过的最贵的东西。这部手机一直陪伴到我出国(换用了iPhone 4),并且直到2015年年初入手了二手的黑莓9780之前一直都是我的备用手机。Palm OS上的字典、输入法我认为直到现在其他手机也无法相提并论,加上可以秒开的各种应用,用现在的眼光看仍然算得上是一部合格的智能手机。半反半透的屏幕在阳光下可视度无敌,只是色彩实在是……哦别忘了Palm OS的聊天式短信界面和静音开关影响了多少智能手机。我的Treo 680刷过无数次机,现在使用的是我自己定制的精简ROM。机器被摔过几次但是没有摔坏过。最早的外壳磨损很严重,后来在淘宝上先后入手了两套新外壳,我自己翻新过两次,成色还不错。不过这个机器也有几个地方让我不爽:震动器像蚊子叫、听筒声音小的可怜、边框动不动就自己裂开、电池不够用(当然这一点在换了吹友吧如风的大容量电池以后就好多了)。
My first phone is Treo 680. I bought it before I went to senior high during the semester break. It was CECT's OEM and spend over US$300 back then and easily top my purchase record before I went abroad. It was my driver until I switched to iPhone 4 in 2011 and was my backup phone until I bid that Blackberry 9780 in 2015. Palm OS rocks. I mean it. ZDic and PocketIME is still the best productivity tools on smartphone and current iOS/Android apps are not event come close. Palm OS apps can be launched instantly which is simply mind-blowing. Reflective screen works perfect under outdoor sunlight but due to its limitation, screen colors looks washed out. And don't forget to mention chat-style SMS and silent switch that are become popular and influenced so many smartphones since Palm Treos. This Treo uses a DIY ROM with minimal footprint. It was quite sturdy as well. Plastic enclosure wear out over time but I did refurbish it myself twice with parts from Taobao and it looks great. There are major failure to this model as well, such as the thing I would not call it vibrator since it's not exactly vibrate, earpiece is quiet, bezel just crack on its own and poor battery life. The battery life did get better after I bought that 3rd party 1800mAh battery with Sony cells.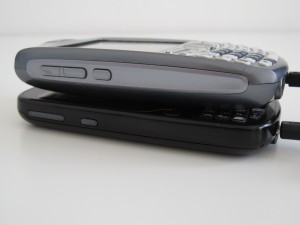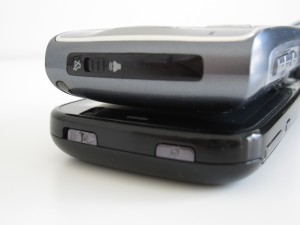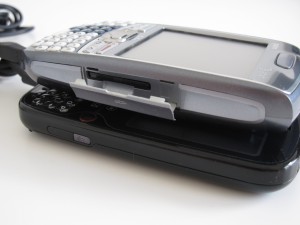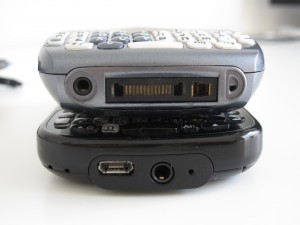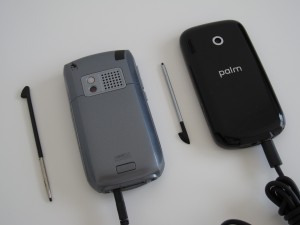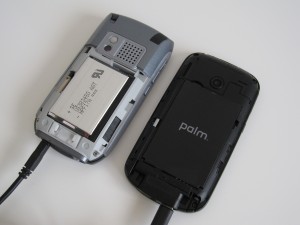 Treo Pro则是Palm使用Windows Mobile系统手机的末代旗舰(后来推出了使用webOS的Pre)。这台机器是在eBay上找到的未使用过的新品,配合Palm的逻辑使用Windows Mobile还别有一番趣味。这款手机自带Wi-Fi,甚至还有独立的无线开关。键盘则是仿Centro的设计,一体化并且是软的水晶按键,手感很好而且不打滑。电阻触屏是全平的,只是手写笔也太小了基本上没法用。机器是HTC代工的,很多地方可以看到HTC的影子,比如QuickGPS、定制模块、手写笔等等。方形的屏幕会多多少少造成应用不兼容的问题,不过因为是高分屏所以可以考虑开启RealVGA优化。机身背面是抛光塑料,和钻石一样,一磨就花(残念)。200万的摄像头聊胜于无,在此不究。我这台机器没能幸免Treo Pro的裂痕门,在屏幕左上角的塑料边框已经裂开(这可是全新的机器啊),联想到Treo 680也会不由自主地开裂,真是无力吐槽。最后注意Treo Pro是有挂绳孔的,而Treo 680则没有。
Treo Pro is the last flagship Treo with Windows Mobile (then there's Pre). I found this phone on eBay with never used condition. Palm definitely did a lot of customization on Windows Mobile such as alert sounds, keyboard shortcuts and screenlock. It has Wi-Fi builtin and even standalone switch for Wi-Fi. Keyboard is inherited from Palm Centro with all-in-one design and rubber crystal-clear keys to prevent finger skid over keys. Resistive touchscreen is flat since it's OEM by HTC and also inherit HTC's tiny styluses. Also some HTC signatures can be found on Treo Pro like QuickGPS, bootloader, etc. Square screen with high resolution may cause compatibility issues but you can always RealVGA it. Battery cover is mirror finished plastic and just like HTC Touch Diamond, not scratch resistant, at all. 2 megapixel camera is equal to none and I don't really give a *. Palm Treo Pro was often found has a cracked bezel on its own which my unit also suffers from it (It's a new phone for god sake). At last, Treo Pro features a lanyard hole compare to other models.