My mobile device collection, episode 12: Fujitsu LifeBook U1010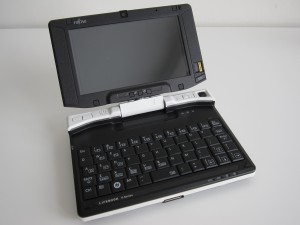 品名 Product name
富士通 LifeBook U1010
Fujitsu LifeBook U1010
颜色 Color
白色
White
操作系统 OS
Windows XP Tablet Edition
处理器 CPU
英特尔2007超移动平台 A110 @ 800MHz, 512KB二级缓存
Intel Ultra Mobile platform 2007 A110 @ 800MHz w/ 512KB L2 cache
内存 Memory
1GB DDR2 不可升级
1GB DDR2, not upgradable
硬盘 Hard drive
40GB 1.8" PATA CF接口
40GB 1.8" PATA CF-connected
显卡 Graphics
Intel GMA 950
电池 Battery
FPCBP182 2600mAh @ 7.2V, 18Wh (Li-ion) / FPCBP182 5600mAh, 37Wh
屏幕 Screen
5.6" WSVGA (1024*600) TFT LCD (LED)
摄像头 Camera
VGA, 0.3 meagpixels
输入输出 Input/Output
无线网络开关、电源、SD卡读卡器、音量旋钮、3.5mm音频输入及输出、底座接口、CF卡读卡器、USB 2.0、摄像头、指点杆及按键、指纹识别器和7个硬件快捷键(日版机型带电视接收器天线,底座上有4个USB 2.0、VGA和RJ45接口)
Wireless switch, power jack, SD card reader, volume rocker, 3.5mm audio in/out, docking port, CF card reader, USB 2.0, camera, point stick and mouse buttons, fingerprint reader and 7 programmable hardware buttons (Japanese version has TV tuner antenna, extra 3*USB 2.0, VGA and RJ45 ports on docking station)
重量 Weight
630g
网络 Network
内置蓝牙2.0、10/100BASE-T局域网、802.11a/g无线网
Bluetooth 2.0 built-in, 10/100BASE-T Ethernet and 802.11a/g Wi-Fi
成色 Quality
二手
Pre-owned
发售日期 First released
2007年5月
May, 2007
其他 Others
此机型在日本和美国型号为U810。原机主居住在昆士兰州,显示屏因潮湿环境的原因出现不可逆的水波纹,屏幕背光板后方和机身背面在清理时发现大量虫卵,机身背面的富士通隔热垫及标签因此已被揭除。
This model has a different model number, U810, in Japan and US. Previous owner is from Queensland. Display has unrepairable watermark due to humid environment. Large quantity of insect eggs are found behind backlight module and bottom of the unit and has been cleaned up. Fujitsu's signature heat absorbing felt pads and labelling has been removed when cleaning (due to previous mentioned reasons).
当前状态 Current status
可工作,仅收藏
In working order, only for collection
相关信息 Related info
Fujitsu LifeBook U1010 Factsheet, Small Laptops and Notebooks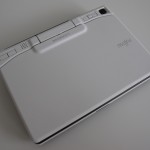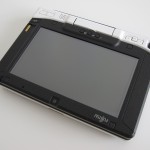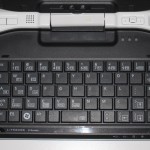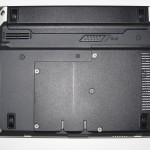 富士通U1010更像是富士通其他个系列平板电脑的缩小版本。相比于其他UMPC它的设计语言更贴近于笔记本电脑的范畴,而且相比于索尼的UX系列,机身更大屏幕也更大一些。U1010在屏幕翻转后更适合双手操作,而且在屏幕周围还添加了一些快捷键,可以调出手写板、打开车头灯和旋转屏幕,甚至在指纹识别器旁边添加了一个Ctrl+Alt+Delete的快捷键,可能和这台机器性能太水有关吧(逃)。不过还好至少U1010的键盘还能称得上是个键盘,不像三星和索尼的UMPC,完全就是一堆微动开关,毫无手感。我收到的这台机器估计在昆士兰被虐得很惨,拆开清理的时候竟然在屏幕背面找到了大堆的虫卵,机身背面的隔热贴周围的缝隙里也全都是虫卵,依稀还能见到几只活虫,在经过几小时的战斗成功将屏幕背后完全清理好了,只是最后不得不把背面的富士通专利的隔热胶和标签统统撕掉,真是可惜。
Fujitsu LifeBook U1010 is more like a shrink-down version of other Fujitsu tablet PCs, which is more similar to a laptop compare to other UMPC models. It has a larger dimension and screen to VAIO UX. U1010's display can be rotated to be easier for two hands. There's also some hardware programmable buttons around screen to do things such as turn on keyboard light and open handwriting panel. It even has a Ctrl+Alt+Delete shortcut, probably a design due to its low performance and lack of confidence. On the other hand, that is indeed a keyboard, not like those tactile buttons on Samsung and Sony devices. This unit is pretty much beat-up in Queensland. When I tear it down for cleaning I found a nest of insect eggs behind display panel as well as around stickers on the bottom which is, well, disgusting. It took me few hours to get it cleaned but I have to remove signature heat absorb sticks on the back along with model labels. What a pity.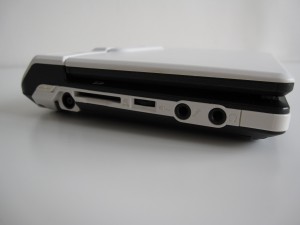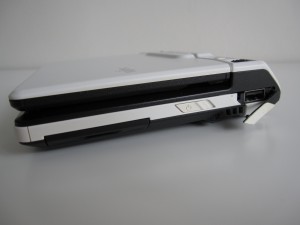 机身周围的接口中规中矩:电源口、无线网开关、读卡器什么的就不多说了,机身上只有一个USB接口,由防尘盖挡着。电源键无力吐槽,竟然是向上拨动的设计,很难搞。
Ports around the unit: power jack, wireless switch, card reader, blah blah blah. There's only one USB port with protective cover on the right side. Using the power switch is agony. It slides upward instead of downward with a very little grab, can you believe that?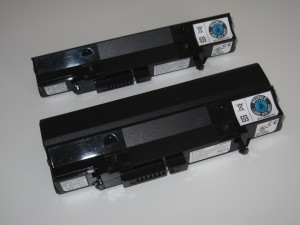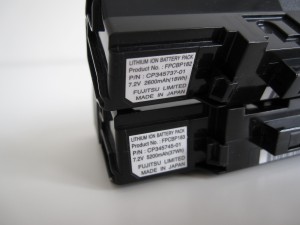 这台机器自带两块大电池和一块标准电池,和ThinkPad一样,大电池会凸出来一截。虽然容量不小,但是经不起A110 CPU的折腾,只能用2-3小时。说到这个CPU,估计U1010是为数不多使用英特尔2007移动平台的机型了吧,后来就有了凌动系列,A110/A120很快就淘汰了。
It came with three batteries (including a standard and two large). When you put the large battery in it protrude like ThinkPad. Although it's a 37Wh battery it hardly make to 3 hours of use time and I blame it to mobile platform U1010 uses. U1010 is a few devices implemented Intel's Ultra Mobile platform 2007 and it was outdated right away when Intel released Atom processors.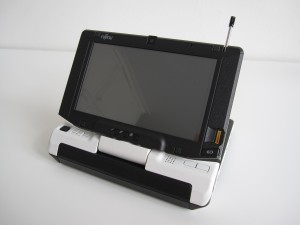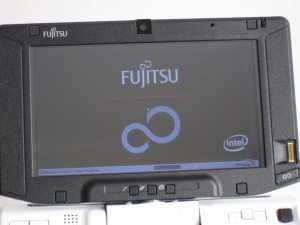 手写笔设计在屏幕上方,卡的不是很紧很容易掉出来,双段式设计可以拉长。Phoenix的BIOS启动还支持鼠标操作,好高大上的感觉。
Stylus is located above screen and slide right out with two segments. When it boots up you can see the fancy Phoenix BIOS screen that supports mouse operation.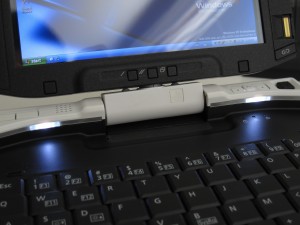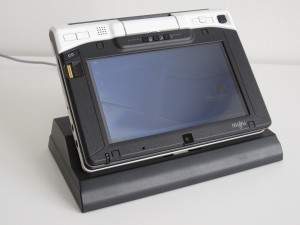 "车头灯"是U1010爱好者给键盘灯起的昵称,正如其名,两个键盘灯分布在键盘上方两侧,只是亮度一般,不在深夜基本无法发挥作用。当然也像其他UMPC,U1010随机附有底座兼端口复制器。
Keyboard light is a neat design but too dark to use. It comes with a docking station of course, just like its competitors.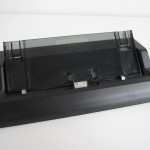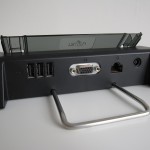 底座里没有配重,依靠后面可以拉出来的不锈钢支架起稳定作用。底座上有3+1个USB端口、VGA输出和网卡接口。
There's no weight in docking station but provides a metal bar at rear to keep it from tip over. It has four USB ports along with VGA and RJ45 ports on the back.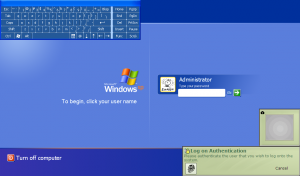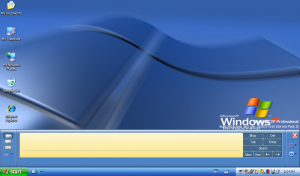 软件篇,预装的系统是Windows XP的平板版本,所以登陆的时候会出现软键盘,而桌面上也可以调出手写框,和其他Tablet PC并无区别。
U1010 has Windows XP Tablet PC Edition preinstalled which come with Royale Blue theme and on-screen keyboard at login. Also handwriting panel will pop out on desktop.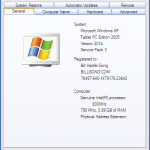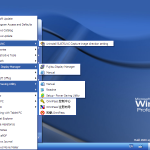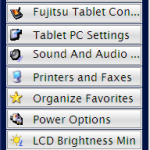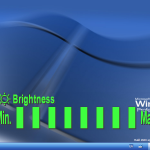 配置方面刚才已经吐槽过了,随机软件比较少,鉴于Windows XP Tablet PC Edition已经提供了很多功能,也就没什么可说的了。比较有代表性的是富士通菜单这个应用,双击鼠标旁边的Fn键可以调出,然后用Fn键旁边的方向键即可导航。其他方面,富士通随机软件的设计实在是太粗犷了,比如这个亮度的OSD,看看那感人的锯齿和亮绿色,瞬间回到了80年代。
It comes with fewer software since Windows XP Tablet PC Edition is already feature-rich. Fujitsu Menu is an app that can be launched by double press Fn key next to point stick and can be navigated by using arrow keys next to Fn button. I have to say some of Fujitsu software are just unbelievable, such as this brightness OSD, feel like been teleported back to 80s.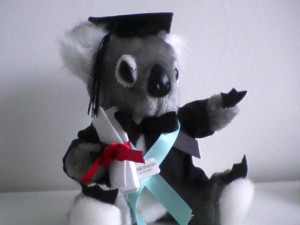 摄像头没啥可说的,VGA画质,样张见上,感谢考拉君再次出场。
Here's a sample for VGA camera. Don't expect too much.